Events • Agenda
The month of May rhymes with longer days and good music: another edition of Música à Mesa is coming!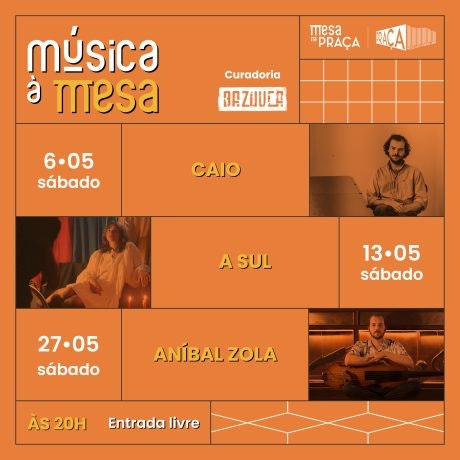 In May, Música à Mesa is curated by Bazuuca. The promoter from Braga promises to bring a program of 100% Portuguese music and emerging artists to liven up your nights at the Mesa.
On the 6th of May, Caio opens the almanac of his heart at the Mesa with a concert filled with stories of catharsis, resilience and love. A SUL presents, on the 13th, her musical project that seeks to evoke a spirit of return to Nature as a symbolic form of approximation and introspection. To close the month, on the 27th, Aníbal Zola travels through different sounds, Samba, Bossa Nova or Tango, without ever forgetting Jazz, which is his starting point.
All events start at 8 pm and with free entry. Your dinners will be tastier with good sounds and good food.
We are waiting for you!