Events • Agenda
Música à Mesa: a feast of sounds and rhythms for your ears!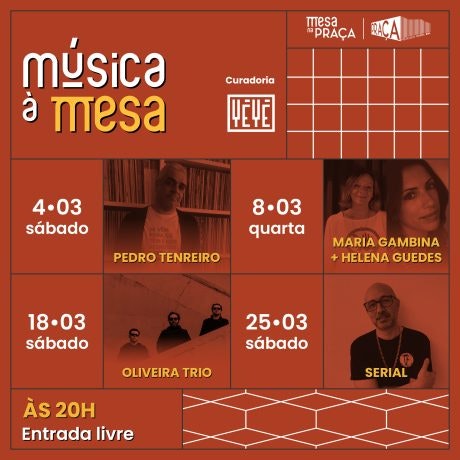 The month of March brings musical news to Mesa na Praça with the cultural initiative "Música à Mesa". Rádio Yéyé curates this edition, digital platform that unites urban music's past, present and future, and brings five nationally renowned artists to Mesa.
The agenda kicks off on Saturday, March 4th, with Pedro Tenreiro (DJ Set) setting the tone for the month's cultural entertainment. On March 8th, we celebrate International Women's Day, and to make this a very special evening, Mesa na Praça will host the duet Maria Gambina + Helena Guedes as a DJ Set that will enchant us with their good vibes!
The surprises do not end here! On March 18th, Oliveira Trio, a band already with a recognized international career, will also promise to conquer the hearts of the people of Braga.
To close the month on a high note, on the 25th, Serial (DJ Set) presents a mix of jazz, funk and soul, which shows a little of its musical roots to liven up the night.
All events start at 8 pm and have free admission, so there are no excuses for you not to enjoy good music, along with good food, that Mesa na Praça has to offer.
We are waiting for you!