Events • Agenda
Carnival at Mesa's rhythm!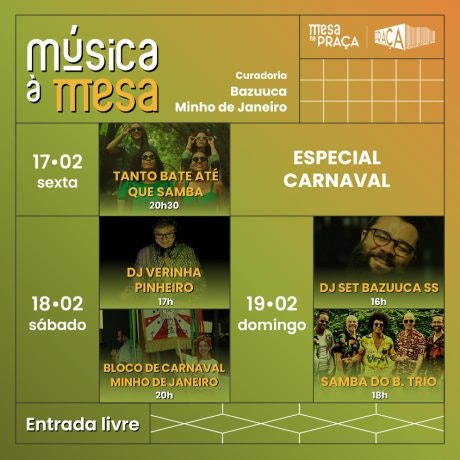 Carnival is coming, bringing a lot of entertainment, music, and dance! Mesa na Praça is ready to celebrate it and has prepared a unique programme with three days of music events.
Concerts, a Carnival block and entertainment with DJs are the proposals curated by Bazuuca, a cultural promoter from Braga whose mission is the dissemination of Portuguese music, and the collective of Brazilian origin Minho de Janeiro that intends to bring to Braga the contagious joy of the Brazilian street Carnival.
The program starts on Friday, January 17th, at 8:30 pm, with the musical project "Tanto Bate Até Que… Samba", which promises a contagious concert marked by joyful and energetic rhythms.
The following day, Saturday, February 18th, Mesa na Praça will be cheered by the sounds of samba and beats that make you want to move your feet. At 5 pm, DJ Verinha Pinheiro will set the tone for an end-of-the-day filled with music. At 8 pm, the Bloco de Carnaval Minho de Janeiro will entice the citizens of Braga with the joy of the traditional Brazilian Carnival.
To close on a high note, on Sunday, February 19th at 4 pm, the good sounds of DJ Set Bazuuca SoundSystem come to Mesa with a perfect program to liven up the afternoon and heat up the atmosphere for the Samba do B. Trio that takes the stage at 6 pm with a repertoire full of classics from the greatest masters of Samba.
Besides the moments dedicated to music, the Mesa na Praça kiosks are also prepared to celebrate the Carnival at the table, with the usual menus and snacks and other special suggestions.
This Carnival, do we have a date at Mesa na Praça, to listen and dance to good music in the company of the best gastronomic suggestions? Join us!