News • News
Balloons, fun and workshops. São João will arrive at Braga's Municipal Market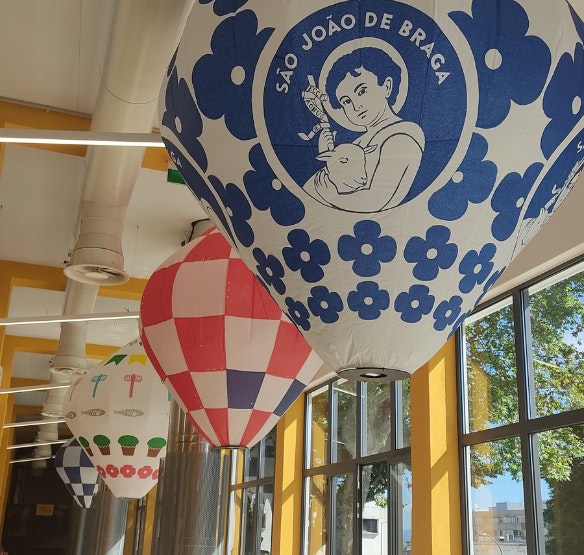 You can already feel the spirit of São João in Braga – and it's not just because of the streets adorned in all colours and shapes. The most awaited popular party of the year reappears in the Minho capital after two years without celebrations, and Mesa na Praça, the new food wing of the Braga Municipal Market, has a special program dedicated to the date during June, with the right to exhibition of Sanjoaninos balloons, workshops for those who want to learn this art and a concert.
"São João is made by Braga's festive spirit, marked by the pleasure of going out and experiencing these celebrations after being prevented from getting together for two years. With these different and free initiatives, "São João à Mesa" is the perfect opportunity for families and friends to gather in a privileged place like Mesa na Praça, the result of a perfect combination of innovation and tradition," says Mesa na Praça's manager.
The return of the most awaited popular celebrations has two workshops, on the June 18th, conducted by Luciano Britto, the balloon master who brings Brazilian wisdom to complement the Minho tradition. Until July 3rd, the Mesa na Praça's first floor is decorated with São João balloons to celebrate São João, the result of the artisan's work.
On June 24th, Mesa na Praça celebrates São João with a golden key, with the Minho group Siga a Farra, from 7h00 p.m. to 9h00 p.m., for a journey of singing the challenge and Portuguese light music.